Official News Release
Report: The 74th Meijin Title Acquisition Ceremony
Category: 
Published at: 2016-07-25 08:45
Original site: http://www.shogi.or.jp/news/2016/07/74_3.html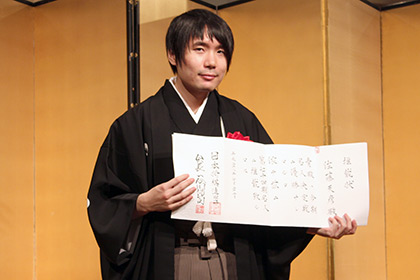 On July 22nd, the 74th Meijin Title Acquisition Ceremony was held at Hotel Chinzansou in Bunkyo-ward, Tokyo. About 400 people participated, including shogi fans and related parties.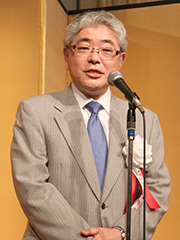 Speech by sponsor (Masataka Watanabe, CEO of Asahi Newspaper)

Speech by sponsor (Yutaka Asahina, CEO of Mainichi Newspaper)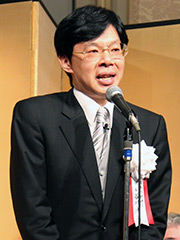 Speech by organizer (Koji Tanigawa, JSA chairman)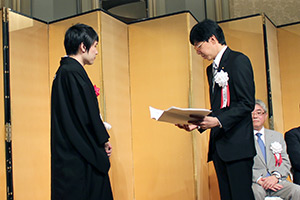 Presentation of Recommendation Letter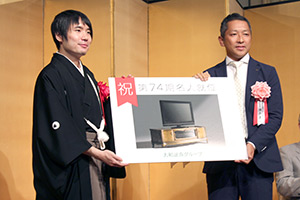 Presentation of memorial gift (by Shinichi Seto from Daiwa-Shoken Group)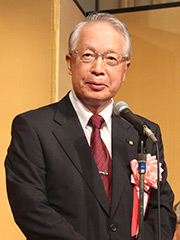 Speech by guest (Toshio Manabe, Advisor of Kyushu-Tsushin Network)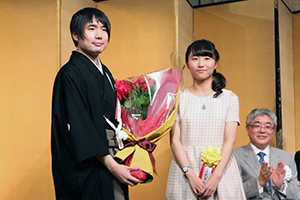 Presentation of bouquet (Ladies 3-kyu Rei Takedomi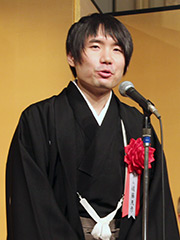 Speech of thanks by Meijin Amahiko Sato
"Sometimes I felt the pressure of becoming a Meijin. But I was able to play in a calm state, feeling the joy of being able to play in Meijin Title Match.
I could play with my own style, thanks to the shogi fans who kindly watched how I played. I am happy that I could return something to all of those who supported and cheered for me."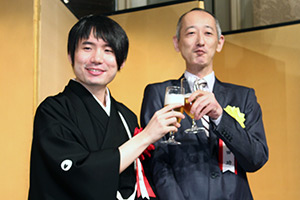 Speech of toast (7-Dan Isao Nakata, master of Meijin Sato)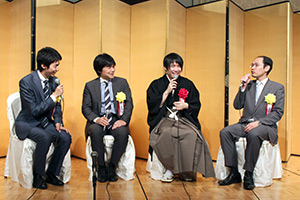 (from the left) 6-Dan Taichi Nakamura, 9-Dan Takeshi Fujii, Meijin Sato, and 8-Dan Kazuki Kimura