Official News Release
JSA presented memorial gift to the G7 Ise-Shima Summit representatives
Category: 
Published at: 2016-05-27 02:05
Original site: http://www.shogi.or.jp/news/2016/05/post_1407.html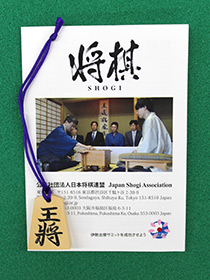 JSA offered a shogi piece accessory and a booklet about shogi in English to be included in the "Summit Bag" given to the representatives at G7 Ise-Shima Summit that took place on May 26th and 27th in Shima-city, Mie Prefecture.
 This was done in order to promote shogi as a Japanese traditional culture, at this opportunity when the leaders of major countries gather. Below is an example of the contents from the booklet.
"Shogi is a traditional Japanese strategic board-game. It is very familiar to the Japanese and is enjoyed by all generations, young and old alike.
Today professional title matches are performed in a Japanese style room. The players wear kimonos, the way they sit and the arrangement of the pieces are stipulated by tradition; the spirit of ancient Japan is omnipresent."
This memorial gift was covered in a TV program "Mezamashi TV" on May 27th morning, in a section dealing with Ise-Shima Summit excusively.
JSA aims to register shogi to Intangible Cultural Heritage of UNESCO, in that it is the only board game in the world that allows captured pieces to be reused, and that Japanese traditional manners and craftsmanship are also involved.